Great Books and Series for Middle Grade Girls
I just fielded a request from a friend. Could I recommend some books for her 5th grade daughter who is finished with the Harry Potter series and the Rick Riordan books and needs some new book ideas.I know that kids like to read the latest and greatest books, which I may not be aware of personally, so this list will be a mixture of what I know personally and what I can glean from the Internet.
As a disclaimer: I created a similar list for boys a few years ago. You can find it here. There is obviously some crossover interest so I may include some of the choices from that list here.
The Flavia De Luce series by Alan Bradley
You may think this is a weird choice to begin my list because The Flavia De Luce series is not specifically written for children/teens. But the protagonist is a plucky eleven-year-old amateur detective and a chemistry nut. She has such a unique voice and truly is a great example of a kid who is willing to make her own way. A friend, who is a 6th grade teacher, always reads the first book in the series out loud to her class each school year. There are currently eleven books in the series. I've read the first four. Start with Sweetness at the Bottom of the Pie.

Tuesdays at the Castle by Jessica Day George
See where it all began with the start to Jessica Day George's bestselling series about a castle that can rebuild itself and the children who defend it. The author said she was approached by her publisher to write a funny book/series for middle grade readers. I say that funny is good and we need more humor in our lives. I hope you give this series a try and then let me know what you think. This is a five book series, each featuring a different day of the week. Target audience is 4-6th graders.
Warriors: The Prophesy Begins series by Erin Hunter
This series has been around for a while and it has many, many books which have spun off the original six-book series but it is worth a peek. I've never seen a series which created such a devoted following among its readers. The books are about a clan of feral cats who have epic adventures and live in a thrilling fantasy world. Target audience 3rd-7th grade.

The Song of the Lioness Quartet series by Tamora Pierce
Some series stand the test of time, others don't. This fantasy series, started in the 1980s, seems to have withstood the test of time and is a wonderful find for girls looking for a strong female protagonist and one who can stand up to everything dished out to her in the world made for men. The four book series starts with Alanna: The First Adventure. Like Rick Riordan, Tamora Pierce has several other series so if you like this one you can explore her other series, too. All of the series are short with only 2-5 books in them so they can be finished up fast and then you can move on. You can explore her other series here on Goodreads. The target audience is ages 10-14.
Fairyland series by Catherynne M. Valente
This is a charming different fairy tale series! It's a Five Book Series and begins with a 12 year old girl living an ordinary life in Omaha. But the book is far from ordinary – it's an intelligent and original fantasy series about wonderful and quirky adventures in fairyland. I read the first two books and enjoyed them very much. (This is a repeat recommendation from my other list.) The titles of the books are so imaginative, too. Start with The Girl Who Circumnavigated Fairyland in a Ship of Her Own Making. The target audience is for ages 9-12.

Fablehaven series by Brandon Mull
"For centuries mystical creatures of all description were gathered into a hidden refuge called Fablehaven to prevent their extinction. The sanctuary survives today as one of the last strongholds of true magic. Enchanting? Absolutely. Exciting? You bet. Safe? Well, actually, quite the opposite." I met this author several years ago just when the series was getting started and I'm delighted to know that this series, as several others by the author, have become very popular. This series has five or six books in it and the first one is simply titled Fablehaven. If you like this series than try Dragonwatch, Beyonders, or Candy Shop Wars. Check out the author's webpage. Target audience is for grades 3-8.
The Chronicles of Narnia by C.S. Lewis
I read this series when I was a girl, then I read the seven books to my daughters when they were young, and lastly we re-read them together later when the girls were teenagers/adults. This series is clearly a family favorite. It all starts with a game of hide-and-seek and a wardrobe that just so happens to be a portal to another land. In Narnia the Pevensie children meet many unique animals, like talking Beavers, fauns, and a talking mouse with a sword. But the most beloved is Aslan, the talking lion, who saves them and Narnia. They are referred to as books for everybody. We have two sets in our church library. I urge you to read the books in the order that Lewis wrote them because The Lion, the Witch, and the Wardrobe is the best introduction to the series. Read in this order:
The Lion, the Witch and the Wardrobe (1950)
Prince Caspian: The Return to Narnia (1951)
The Voyage of the Dawn Treader (1952)
The Silver Chair (1953)
The Horse and His Boy (1954)
The Magician's Nephew (1955)
The Last Battle (1956)

The Devlin Quick Mysteries by Linda Fairstein
It appears that publishers think every kid loves fantasy books. If you are tired of fantasy, why not try a mystery instead? This short, three-book series is about Devlin Quick, a twelve-year-old girl who is strong and smart and loves solving mysteries. Start with the first book, In the Lion's Den. Target audience is 3rd-8th grade.

DC Super Hero Girls by Lisa Yee
Like comic books and strong women/girls? Try this series of six stories about super heroes who happen to be girls. Readers of all ages can fly high with the all-new adventures of Wonder Woman™, Supergirl™, Batgirl™, and some of the world's most iconic female super heroes as high-schoolers! Check out the details here.
Track Series by Jason Reynolds
At the recommendation from another librarian friend I am adding this series to the list. Jason Reynolds is an amazing author, one I hope you don't miss. This series has four books in it: Ghost. Patina. Sunny. Lu. About a "fast but fiery group of kids from wildly different backgrounds, chosen to compete on an elite track team. They all have a lot to lose, but they also have a lot to prove, not only to each other, but to themselves." The book details say the target audience age is 10 to 99 years old. I hope you fit into that category. 😃
Stand-alone books that are great choices for middle grade girls: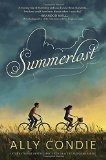 Summerlost
by Allie Condie
After her father and younger brother were killed in accident, Cedar and what's left of her family are spending the summer in Iron Creek. The Asian American girl befriends local boy Leo who introduces her to the renowned Summerlost theater festival. Cedar gets a job at the festival and soon finds herself surrounded by mysteries: That of a deceased Hollywood actress haunting the halls of Summerlost, and that of the strange gifts Cedar keeps receiving. Summerlost is a tender and touching middle grade novel about processing loss and finding friendship.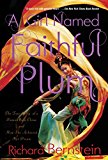 A Girl Named Faithful Plum
by Richard Bernstein
In 1977, 11-year-old Zhongmei traveled for several days to attend the open auditions of the prestigious Beijing Dance Academy. Against all odds, the poor country girl beat out 60,000 other girls, became a famous dancer, and made her New York debut with her own dance company when she was in just her late 20s. Written by Zhongmei's husband, A Girl Named Faithful Plum is a fascinating account of one girl's journey from the remote farmlands of China to the world's stages. (Nonfiction)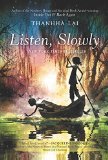 Listen, Slowly
by Thanhha Lai
Instead of spending her holidays at the beach, Californian girl Mai has to accompany her grandmother to Vietnam. Her parents are hoping that the trip will connect their out-of-touch daughter with her roots, but Mai struggles with the foreign country and its culture. Bestselling Listen, Slowly is an irresistible and poignant story about the true meaning of home, culture, family and friends. The paperback edition includes a letter from the author, a Vietnamese glossary and a pronunciation guide.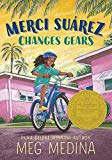 Merci Suárez Changes Gears by Meg Medina
Sixth-Grader Merci Suarez and her older brother are the only scholarship students at their private school in Florida. They have to do extra community service to make up for their free tuition. Added to that Merci is being targeted by a jealous girl and at home, her beloved grandfather is acting increasingly strange. Merci feels very alone with her confusion and worry and tries to find her own way of navigating the difficult situation. Award-winning Merci Suárez Changes Gears is a heartfelt yet humorous coming-of-age novel about change, authenticity and family connection
New Kid by Jerry Craft
Seventh-grader Jordan Banks' passion is drawing cartoons about his life. He'd love to go to art school but his parents decide to send him to a prestigious private school known for its academics instead. Jordan soon finds himself torn between two worlds. New Kid is an engaging graphic novel about fitting in and staying true to yourself.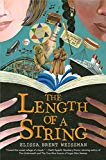 The Length of a String
by Elissa Brent Weissman
Imani is adopted and she knows exactly what she wants as her big bat mitzvah gift: to find her birth parents. Being Black in her mostly White Jewish community, she has always wondered where she came from. When her great-grandma Anna passes away, Imani discovers her old diary from 1941, the year she was twelve and fled Nazi-occupied Luxembourg alone. Anna's diary records her journey to America and her new life with an adoptive family of her own. As Imani reads the diary, she begins to see her family, and her place in it, in a whole new way. The Length Of A String is a gripping novel about identity, family and belonging.
I found the ideas for the stand-alone books from Colours of Us: 50 Multi-Cultural Books for Middle Grades. Check out the list here for more ideas.
In addition you might want to check out this list of Books for Middle Graders by Asian American or Pacific Islander authors. Click this link at Wild Rumpus.

I hope you find some books you like among these recommendations. Be sure to talk to your school or public librarians for more ideas. Happy reading!

-Anne